Who we are
J.P Polymers is one of the largest distributor of Engineering & Specialty polymers in India. J.P Polymer is a name to reckon in the engineering polymer industry because of the close association with world renowned Engineering Polymer manufacturers. Working with us gives our customers a peace of mind that comes from a professional team that lives up to its word and keeps its promises.
With two decades of experience and customer service J.P Polymers is able to fulfill customer's technical & commercial expectations. We are a leading supplier of wide range of engineering polymers powering various number of industry verticals like Automotive, Telecom, Electronics & Electrical, Furniture, Home Appliances, etc.
Our relationships, market intelligence and interactions with suppliers and customers helps us make the right decisions and source the right product at the right price for every customer.
Whether it's polymers, market advice or worldwide support, J.P Polymer delivers on time across the nation.
Accreditation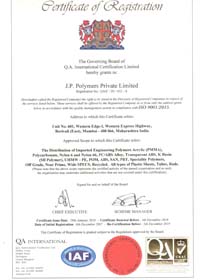 Our Vision
Help our trusted partner's business thrive with our Integrity & Passion
Our Mission
To build customer-focused business models that complement their business growth and to become India's leading supplier of engineering polymers by 2020
Our Quality Policy
At J.P. Polymers, Quality comes first and due to this priority we are today the market leaders. Consistent emphasis is laid within the organization to deliver quality product to our esteemed customer who rely on us. Regular TQM training is provided to ensure a healthy and motivated environment.